Our surgical department is staffed and equipped to offer all necessary surgical options/interventions to our patients in a timely fashion.  The surgical suite is equipped with Bear Huggers to help maintain our patient's body temperatures, thereby increasing the comfort and safety of our surgical patients.   The surgical suite contains MicroAire Smartdriver and MicroAire high speed burrs systems for our orthopaedic and spinal surgery patients.  Bovie Aaron Polar and Bipoar cautery allows us to perform major and minor surgeries with minimal blood loss and increased healing time.  Surgical patients requiring extra care and attention are recovered in our fully equipped and trained critical care unit.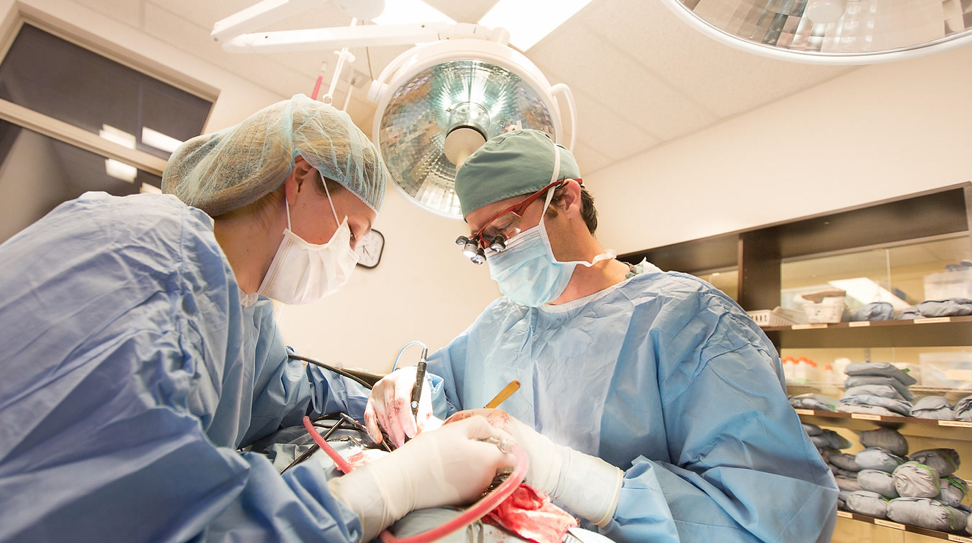 Orthopaedic
Our hospital carries a complete line of plating systems for all fracture types in house, therefore, allowing us to provide timely fracture fixation.  The surgery department also stocks external hybrid fixation systems allowing us to accurately repair angular limb deformities and work with contaminated fractures in an efficient and effective manner.   We carry synthetic bone grafting compounds to speed and stimulate bone repair and provide live bone grafts when indicated.
Some of the orthopaedic surgical procedures provided include Tibial Plateau Leveling Osteotomy (TPLO) for cranial cruciate repair, Femoral Head Osteotomy ( FHO ) and open and closed fracture repair.
Soft Tissue
The surgery department also offers a variety of thoracic surgeries including, but not limited to, lung lobectomy, trauma repair, oncological resection and cardiac surgery.   We provide advanced skin grafting procedures allowing us to repair major open wounds and remove large tumours from our patients which otherwise would have been inoperable.  Our surgeon repairs both intrathoracic and extrathoracic collapsing tracheas.  Our department also performs, laryngeal tiebacks for treatment of laryngeal paralysis, soft palate resection, Total Ear Canal Ablation and Bulla Osteotomy (TECABO ), Perineal Urethrostomy (PU) for blocked cats, Holtz Celsus surgery for entropion, perineal hernia repair, and tendon repair.
Neurosurgery/Spine
Our surgery department is equipped to deal with hemi-laminectomy , lumbosacral decompression, spinal fracture repair, cervical slot decompression, cervical vertebral stabilization and atlanto-axial subluxation at an advanced level.  We also provide brain surgery for meningioma removal.